Sleeping Arrangement
Description
Welcome to Arrowhead Condos Unit 7
, your Yellowstone retreat! A well-appointed efficiency unit similar to a traditional hotel room but with more comforts & added amenities to make it a cozy, welcoming and more personal experience! Our unique bathroom set up offers the convenience of a separate vanity area as well as two private commode areas (one includes a jetted shower/tub combo) to make space sharing easier and more comfortable. Unit 7 has two queen beds and a slim-twin daybed for additional sleep space. The unit has a desk, oversized mini-fridge & freezer, coffee supplies, microwave, luggage and closet space as well as a toasty warm fireplace to help you relax and plan your next day's activities.
This unit allows for a max of 4 adults and total of 5 travelers. Arrowhead Properties has multiple vacation rentals in West Yellowstone, if this isn't your perfect match please see some of our other offerings or call us for assistance!
We sincerely appreciate your interest in our vacation rentals. All our units are on the same property with similar decor and amenities, please search our other listings for alternate accommodations. Our rates change multiple times throughout the year, check your target travel dates for accurate pricing. The three-night minimum will be waived if the calendar shows availability for just one or two nights, the booking calendar should update to allow for this but please contact us if you're having trouble.
We are proud that our cleaning and disinfecting standards have always been extremely high. We understand the difference between cleaning and disinfecting and this 2-step process is part of our everyday procedures as recommended by the Vacation Rental Management Association's SafeHome protocols. Our properties are extensively cleaned following each departure and then separately disinfected with an EPA registered disinfectant that meets the CDC criteria for not only the common pathogens we are all used to hearing about, but the Coronavirus that causes COVID-19 as well.

Please take all recommended precautions and consider travel insurance while you plan your Yellowstone adventure. The great outdoors and fresh mountain air await you, stay healthy and see you soon!
Amenities
All Arrowhead Condos properties have access to our free on-site laundry facility, DirecTV Satellite, Free WiFi Internet, and air conditioning. Our buildings offer ski in ski out, snowmobile trailer parking & free guest and street parking. Units or laundry areas have iron & ironing boards and boot dryers, individual units have hair dryers, umbrellas and many more amenities. All bathroom linens are provided as well as basic amenities like paper products, shampoo/conditioner, body wash, lotion etc. Kitchens are equipped with all dishes and appliances (locally roasted coffee is provided for your stay) as well as starter amounts of necessities like paper towels, soaps and garbage bags. Highchairs and pak-n-plays are available upon request. All condo units have DVD players and small collections of videos, books & games as well as in-floor heat. All lodge units have fireplaces and smart TV's. In both buildings all your bed linens are provided as well as extra linen and pillows for spare sleeping spaces. The Arrowhead Condos building has a shared outside lawn & patio with propane BBQ, the Lodge building has a cozy common area with a fireplace, seating and TV. All Arrowhead Properties guests are welcome to utilize common spaces at both buildings. If you find you are missing anything during your stay, please reach out to your Property Manager who will be happy to assist you.
Floor Plan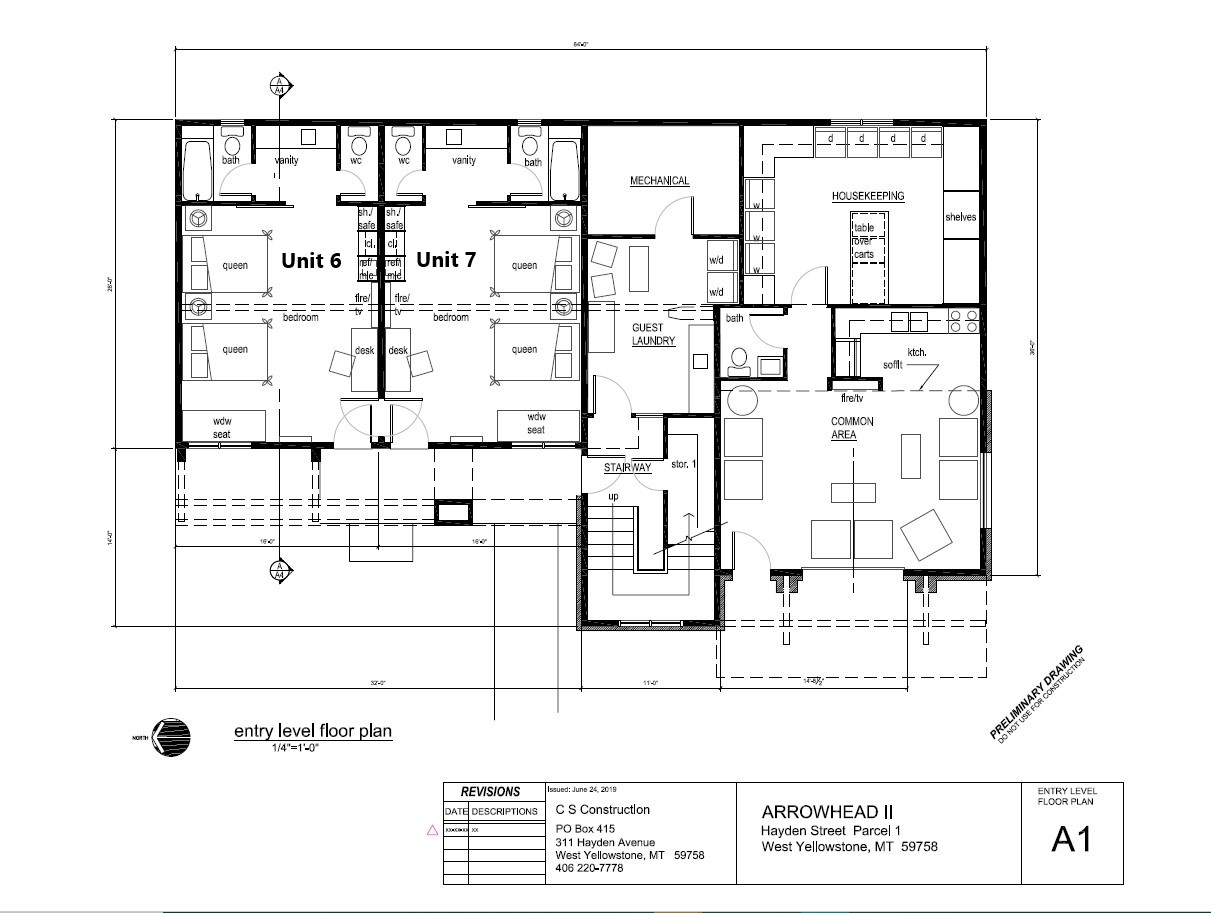 Calendar
Sep - 2023
S
M
T
W
T
F
S

1

2

3

4

5

6

7

8

9

10

11

12

13

14

15

16

17

18

19

20

21

22

23

24

25

26

27

28

29

30
Oct - 2023
S
M
T
W
T
F
S

1

2

3

4

5

6

7

8

9

10

11

12

13

14

15

16

17

18

19

20

21

22

23

24

25

26

27

28

29

30

31
Nov - 2023
S
M
T
W
T
F
S

1

2

3

4

5

6

7

8

9

10

11

12

13

14

15

16

17

18

19

20

21

22

23

24

25

26

27

28

29

30
Dec - 2023
S
M
T
W
T
F
S

1

2

3

4

5

6

7

8

9

10

11

12

13

14

15

16

17

18

19

20

21

22

23

24

25

26

27

28

29

30

31
Jan - 2024
S
M
T
W
T
F
S

1

2

3

4

5

6

7

8

9

10

11

12

13

14

15

16

17

18

19

20

21

22

23

24

25

26

27

28

29

30

31
Feb - 2024
S
M
T
W
T
F
S

1

2

3

4

5

6

7

8

9

10

11

12

13

14

15

16

17

18

19

20

21

22

23

24

25

26

27

28

29
Mar - 2024
S
M
T
W
T
F
S

1

2

3

4

5

6

7

8

9

10

11

12

13

14

15

16

17

18

19

20

21

22

23

24

25

26

27

28

29

30

31
Apr - 2024
S
M
T
W
T
F
S

1

2

3

4

5

6

7

8

9

10

11

12

13

14

15

16

17

18

19

20

21

22

23

24

25

26

27

28

29

30
May - 2024
S
M
T
W
T
F
S

1

2

3

4

5

6

7

8

9

10

11

12

13

14

15

16

17

18

19

20

21

22

23

24

25

26

27

28

29

30

31
Jun - 2024
S
M
T
W
T
F
S

1

2

3

4

5

6

7

8

9

10

11

12

13

14

15

16

17

18

19

20

21

22

23

24

25

26

27

28

29

30
Jul - 2024
S
M
T
W
T
F
S

1

2

3

4

5

6

7

8

9

10

11

12

13

14

15

16

17

18

19

20

21

22

23

24

25

26

27

28

29

30

31
Aug - 2024
S
M
T
W
T
F
S

1

2

3

4

5

6

7

8

9

10

11

12

13

14

15

16

17

18

19

20

21

22

23

24

25

26

27

28

29

30

31
Reviews
Write a Review
Similar Properties
Starting at (USD)
$145.00 Starting at (USD)
$160.00 Starting at (USD)
$160.00 Starting at (USD)
$160.00 Starting at (USD)
$145.00 Starting at (USD)
$145.00 Starting at (USD)
$250.00 Starting at (USD)
$300.00